3M
3M : 'We are stars watch us shine with the gifts God gave us!'
Blue Peter

Can you kit out Barney, Lindsey or Radzi in the right outfit to face a Blue Peter challenge?
We would like to welcome the children back to school after what we hope has been a wonderful and relaxing Summer break; the children have been full of stories to tell.
The children have settled in remarkably well to KS2 and are already adjusting to the rules and routines of Year 3.
We are encouraging the children to be as independent as possible by remembering to bring their book bag (this is not optional) - with their reading book, a drink, a healthy snack that must not contain nuts and whatever else they may need for the day. Pencil cases and rucksacks are optional but do cause distraction and are yet another thing for the children to carry.
Please be mindful of the uniform policy and ensure that the correct PE kit is in school. All items that are sent into school must be clearly named.
In the first half of the Autumn term, we will be focusing on place value and recognising and representing numbers to 1000 in a number of ways. These will include the 'part-whole' model, place value grids and using place value cards.
Our main focus in our other subjects will be based around our key text, 'Stone Age Boy'. We will be engaging in lots of cross-curricular learning related to this text and for any extra information please see the Curriculum Overview for Year 3, which is also on the website.
Year 3 is a very important time for the children, as we will be preparing them to receive two sacraments this year. First, they will receive the Sacrament of Reconciliation - also known as First Confession - and the Sacrament of the Eucharist or First Holy Communion. There will be a number of meetings that will be taking place to provide you with the key information you will need and to prepare the children. Going to Mass weekly is a very important part of this preparation. Even if your child is not receiving the sacraments this year, we would like to invite them to be involved and to support their peers by coming along to the celebrations and to sing in the choir.
We are really excited about the year ahead and look forward to not only working with the children, but with all of you as parents to ensure our children have a happy and successful year.
Maths Autumn 1
So far this half term we have been exploring place value. We have been working on how to represent numbers up to 1000 using words, which need to spelt correctly and digits. We have also been partitioning numbers into hundreds, tens and ones using place value grids and number sentences e.g. 243= 200 + 40 + 3. The maths homework we have sent is a good indication of what the children are expected to know, any additional help in this way would really benefit the children. Ordering numbers in ascending and descending sequences aswell as comparing numbers using the <, > and = symbols has also been a big focus for us. It shows the children understand the value of the numbers they are dealing with and can identify which quantity is more and which is less.
This is a place value grid.
The vocabulary we have focussed on is:
Digit
Numeral
amount
value
ascending
descending
compare
order
partition
more
less
greater 
fewer.
We are continuing to practise counting in different quantities, but the children have found counting in 50s a little tricky, if you can support this at home we would be very grateful.
This week we have moved onto addition and subtraction again to 1000 where the number being added or subtracted is a one digit number that does not cross a ten. There are a number of strategies we have been showing the children that may help them. Using what they know to work out what they don't through partitioning e.g. 354 + 5= I know that 4+5= 9, so 54+5= 59 and 354+5= 359.
The use of a place value grid, this also ensures they build the number up correctly to show the correct value e.g. the value of 819 is very different to the value of 891 is the digits are put in the wrong place. If you are unsure what this should look like please come and see me.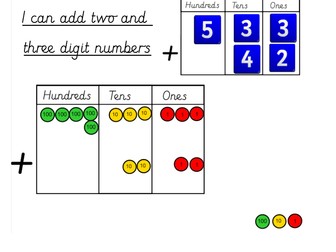 Finally, the use of a number line. The children are still very keen to represent their answers using the part whole models and bar models from last year aswell.
As we move onto addition and subtraction that does cross ten and will need exchanging, we will continue to update the website with information.
English Autumn 1
So far in English, we have revised expanded noun phrases from last year e.g. the dark, gloomy, miserable cave and have begun to try and use fronted adverbials. This allows the children to start their sentences in more interesting ways and gives the reader more information e.g. Early one morning, Ben went strolling through the long, wavy grass or Not far from the camp, the tribe were building fires and making clothes from animal skin. We have been emphasising the use of the comma after. 
We have moved onto compound sentences, which are sentences that make sense on their own but can also be joined using a conjunction to vary sentence length e.g. John had finished his work. John read a book. Can be joined with the conjunctions and or so: John had finished his work, so he read a book. John finished his work and he read a book.
In our written work, we are really focussing on handwriting and presentation in the hope of achieving a pen license this year. Everyday we pick out a letter or sequence of letters that we find difficult to form and join. Another target for all of the children is finishing a task within the time given which all forms part of their stamina for writing.
Aswell as focussing on the spelling patterns, rules and common exception words for year 3 we are constantly looking at common mistakes with spelling that the children have. Currently, we have been focussing on adding the suffixes -ed, -ing and -er and how if there is a short vowel we must remember to double the consonant e.g. trip becomes tripping, tripped and tripper because the word has the short vowel i. Also how when adding these suffixes to a word ending in e we drop the e before adding the suffix so bake would become baking, baked and baker.
Black History Month
We have taken a small break from Stone Age Boy and our Stone Age topic to focus on this important month in our school calendar. The children have a very good understanding already as to why we celebrate and learn about black history and have been excited by the people we have looked at so far. 
We began by looking at Rosa Parks. The children couldn't believe the inequality even down to treatment on a bus. We began with a small debate about this event and the children then created a wanted poster with a character description and details of this event. We then thought of arguments for and against what Rosa did to ensure we had a balanced argument. e all agreed her actions were brave and courageous and we are going to try to be more like her.
We have begun singing the song 'This little light of mine' and discussing how it is a song that it is attributed to that time in history and why.
R.E.
Aswell as celebrating Mary's birthday, taking part in the city wide Adoremus and exploring ways that we can be compassionate in loving in our own lives we have begun our first unit of 'Belonging'.
We have identified groups that we belong to and what roles and responsibilities we have within these groups. We have had lots of discussion as to why it is important to belong and how we can help others to feel that we belong too! Jesus always made people feel like they belonged no matter what they had done, what their job was and despite what other people thought. Many of his disciples were classed as sinners and he still chose them to follow him. We have looked closely at this story from scripture and have devised our own recipes for the qualities that we think a disciples of Jesus should have. It is through Baptism that we are welcomed into God's family and everyone in 3M is part of that family. We have been identifying the signs and symbols of baptism and discussing them through role play.
Our Class Saint
Our class Saint is St. Therese. We have a whole display dedicated to her with a picture we have painted and fact files we created after learning about her. Everyday during prayers we ask her to pray for us.
Here are some of the prayers that the children will be learning this year.